About Monk's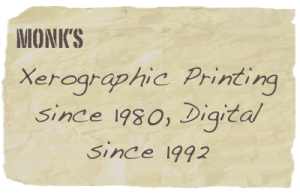 Digital printing is the process of taking your computer generated book, report, flyer, brochure or other art and efficiently turning it into a professionally printed piece that will accomplish your design purpose. We do this through the efforts of experienced people backed by the latest in technology where appropriate and old fashioned craftsmanship where needed.
Some of the technology our people use:
6 high speed Xerox Digital printers
4 Xerox high speed Digital Color printers
Apple, Sun, and Microsoft servers and workstations for processing, storage and printing of your files.
A PDF based workflow to ensure faithful, high quality production of your artwork
Automated equipment for cutting, punching, binding, drilling and wrapping.